Okay. So this post came 1 week late, and 3 days after the first one(ZOMG PROCRASTINATION!). But here's it anyway!
My Steel Samurai ringtone woke us up after 2 hours(or less) of sleep
. Us being me, Rayhan, Jasmine and Desmond. I dragged myself out of bed and started to brush up. It's 6.30am, 4 hours away from Comic Fiesta! I got dressed while the other 3 slowly woke themselves up. The only part that bugged me was the hairspray that was supposed to turn my hair brown like Mia's. It was so hard doing it by myself, and trying to get it evenly on my hair. In the end,
it looked like I had red highlights on my hair
. Rayhan and Jen Sion didn't help much with my hair. It's at these times I wish I could split my body into half because it's so much easier helping myself. :X In the end, I left my hair alone and ended with a hand that looked like it was electroplated in copper. Oh,
did I forget to mention the white thingy on my lips was still there
? At least there's no one layer of skin hanging from my lips, but it's still... white. Thank goodness for lip gloss.
We left on the car with Jasmine's mum fetching us to Sunway Pyramid. Desmond carried my luggage bag, Jen Sion carried Lero, Jun Yu carried my wig and Rayhan carried the "OBJECTION!" signage. And as we left the house, I realized that
my attorney's badge
(more like a fake, cardboard attorney badge stuck on my collar with that sticky plasticine thingy,
inspired by Furio Tigre
)
was missing
. It must've dropped off while I was carrying my bag. Dang! Apollo(Rayhan) decided to lend me his. We got to the convention hall by 9am, not before being stared at by the workers who were cleaning up the shopping mall. There was quite a number of people when we got there, many already lining up to buy their tickets. While they lined up for their tickets, me and Jasmine waited for Nurul to come with our pre-ordered tickets and messed around while we did.
"OBJECTION!" I just had to, signages kick butts :D
And then,
I realized my second attorney's badge was missing
. Woohoo!
I lost two fake attorney's badge before I even entered the event hall. Way to go Suzanne!
When Anthea and co. came along, we got our tickets and
went into the hall to set up our booth
.
My Mario Mushroom cross stitches didn't sell out as I wished they would. So if you're interested in buying one, these are the colours you can choose from!(excluding the Mega Mushroom) They are RM10 each, and friends can bargain. Yes, I'm that nice. :3
Most of the first half of day 1 was sitting at the booth and looking pretty in our cosplay while selling our wares
.
Sales this year was pretty slow
, compared to last year. There's a HUGE increase of doujin booth(100!), and everyone was selling really really good stuff. Fiametta-ink added more merchandises too, so sales was... yeah... slow.
So, here's a few pictures of our morning and cosplay.
The CROWD!(doujin booth area)
A very sexey me, me likey :3
ZOMG. EMA POUT. WIN.
Me, Jasmine, Nurul and Anthea
went to the cosplay registration booth at 1.30pm-ish to prepare for our group competition
. It was pretty nerve-wrecking, seeing all the good cosplays around us. And to top that up, we're going to be first on stage! So, we sat around, did some last preparations, and had more pictures snapped.
One of my favourite pictures of our group.
This was an accidental shot
when Serge threw a hula hoop over us and tried to fit 4 of us in it. And when he side stepped, there was liek,
4 or 5 cameramen going trigger happy
. WHUT. It was so sudden! It's liek,
THEY'RE EVERYWHERE
.
And so, the competition started and we're on stage!
8 minutes of Ace Attorney goodness
.
WATCH IT.
Just for side giggles, our sketch was heavily inspired by this very funny .gif.(it needs more people to laugh at its brilliant humour!
Warning: it is LONG.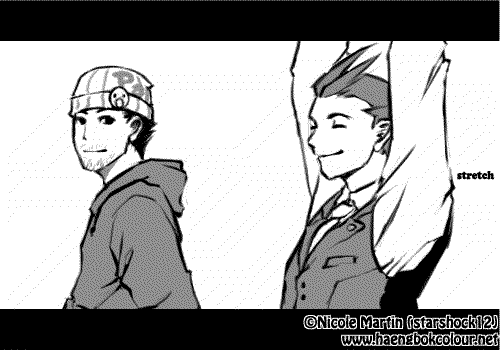 We did a pretty owhsm job on the sketch! 8D All we could do is hope for the best. And go back to selling more stuff while we waited for
Comic Fiesta's Grand Freeze
.(explained
here
, scroll till you see "Project Shiva") It was...
kinda screwed up
though. Not as epic as I expected. We were looking at our watches by 2.30pm. And at 3pm, we still heard no warnings, no alerts, or no cues. About 7 minutes later, we heard the cue and got into our poses. I happened to be holding my handphone while I reached out for my Coldkiller X, Ema was posing with her Snackoos and Trucy was... I'm not sure what she was doing, but she unfreezed pretty early because she was needed. Haha. The freeze lasted for more than 3 minutes I think... about 5 minutes? And it wasn't easy when Ili is talking oh-so-casually to us. Smarty-pants. xP And after the freeze,
I rushed off the scene to get changed into my next outfi
t:
Road Kamelot from D.Gray-man
!
I was only doing
this cosplay for my D.Gay-man friends
, who I have formed a pretty close bond with since Comic Fiesta 2008. On top of that, I had a Tyki this year, so
HELL YEAH
! Thing is, it was pretty late when I changed, and then I had to mend my wig a little more and put on my black nail polish. And then,
Melissa had to call me for help...

to finish up her lunch
.
Well, I'm not complaining, it's free food. And I hate to waste food, and there was quite a lot of it too! I haven't eaten anything at all for the whole day(this was the only meal I had for day 1).
Yay for my cash being spared
, now that I'm broke since all my money is in the bank.
I
rejoined the D.Gray-man group quickly after that, who were having a photoshoot
. It was short, but fun. I don't have pictures to show yet, but check this space, I'll probably update it.
And after that, it was
back into the event hall, where everything quiet down
. The people were packing up and preparing to leave.
Phew,
and that was day 1
!
Comic Fiesta this year was really good
. The hall layout and everything was such an improvement from last year! We could see and hear the stage from anywhere in the hall, and the quality of cosplayers were owhsm this year. On top of that, there were so much merchandises to choose from. A walk around the doujin booth made me so confused on what to buy, so
I kept my merchandise shopping for day 2
.
I went home, where I was alone and exhausted. Went though the bath-shampoo-hair treatment-scrub-facial mask routine and made myself busy with my props(like reinforcing my very abused "OBJECTION!" signage). My family came back from Malacca at about midnight, and I retired to bed at about 2am.
See you at day 2! [For more pictures, visit
my Facebook album
]
Quote of the Day:

"Mia...don't cry. The only time a lawyer can cry is when it's all over."

- Diego Armando, Phoenix Wright: Ace Attorney - Trials and Tribulations