COMIC FIESTA 2010!
18 December 2010, it's Day 1 of the long awaited Comic Fiesta! I slept for about two hours or so, waking up at 5.30am to get dressed and prepped. I woke Hui Jun up a little past 6.00am. We were supposed to meet at Anthea's house at 7.30am, but we were a little delayed as I was searching and packing up my bag for the full day event. Picked up Jasmine and went to Anthea's house where more prepping ensued! Jasmine and Hui Jun braided my real hair, which went under my wig cap, which went under my wig nicely. After wearing my dolly brown lenses(and tearing up a lot), Anthea helped me on my make up. It was already 9.00am when we left Anthea's home; we planned to leave at 8.30am, and I was supposed to be there for my dance practice at 8.30am. :O
Our breakfast. This is what I call the Cina Syndrome. Stay tuned in the future to learn about it! xP
We arrived before 10.00am, being dropped off at the hotel side. Thanks to some cleaner, we entered a lift to the 14th floor. We pushed onto a door and a safety buzzer went off. o__o Apparently, we were in a prohibited area, haha. So we went back down, got into the hotel lift and arrived at Comic Fiesta!
OH MY the queue for tickets was crazy! Thank goodness I preordered mine. I collected my tickets quickly, and Anthea and I continued our make up and last touch ups on our costume. Later, Hui Jun helped me with my hair ribbons.
Day 1: Leena from Chrono Cross!
I'm ready for Comic Fiesta! After tossing our stuff into the storage room, I found my super awesome Serge and we stepped into the main hall for the first time! The place was FLOODED! It's kinda like CF2007 again! (in Times Square, again!) Packets of Nips was distributed all day, which was why I kept smelling peanut butter throughout CF. (I came to that conclusion later in the day. Liek why was peanut butter so popular all of a sudden? o_o) We had a good look of the stage, it was smaller than CF2008, but there was a huge screen at the back. We went through the doujin booths, but it was so hard to get a decent look at anything! The crowd kept sweeping me away, and in the end we headed towards the exit where we see the LIGHT! Oh, lighting is horrible as usual in the hall...
At 1.00pm, Serge and I had to pick out the order of our performance later. We were group number 3! We had a few practices on our skit. And then into the hall we go to stand by for our performance! It was so nerve-wrecking! Finally, it was our turn, here comes the Radical Dreamers!
(Click here to look for the other CF videos!:
My YouTube playlist
)
We were so excited when it was done! :D Everyone was patting us on the back. WHEW! What a relief! All my hard work... at least the audience was entertained! At certain points during the skit, I had to control myself from laughing, haha!
After that, I hung out with Anthea and Hui Jun for abit, then went doujin shopping while they went for lunch. It was pass 3pm at that time, and the crowd at the doujin booths seem to have lessen. I picked up quite some badges(my soft spot!) and a keychain and a mouse pad. Panda Baka's stuff are always nice. :3 Remember
this post
? More specifically, the part where I spazzed about Zeiva.
Funny story. Anthea gave me the doujin layout before Comic Fiesta and we found a booth called "Zeiva". First thing that comes to mind is of course the very owhsm Zeiva on deviant-art who I adore very much.(flash games with bishies? I'm not complaining. =D) But then, Zeiva is from way out there not-in-Asia kind of there, and Comic Fiesta's not a very big convention when you compare it to stuff in Philippines and Japan and the US. So I sort assumed that it wasn't her. I got to the said booth and ZAMAGAWD. It's Zeiva's stuff on sale! I was so excited that we could find her products here in our little convention in little Malaysia! Then I thought that it was probably her representive from Malaysia or something, but the funniest thing was that the price labels were "2 RM, 4 RM" and so on. xD So I bought myself a Zelan badge(the Chinese astrological keychains sold out! Leeeenz! ;__;) and went on my way. After Comic Fiesta I went Google-ing and found out from Zeiva's livejournal that she was, indeed, in Comic Fiesta for her first convention in Asia.
ZOMGWTHSTFUBBQ.
I'm sad. I didn't get a chance to get her autograph! ;__; I can't believe I was so blursauce! Zeivaaaaa!!! I'm crossing my fingers that she comes back to CF2010 so I can buy her game.
So, I looked for the doujin booth layout to see if Zeiva was back. (Fiametta-ink didn't open a booth this year) I couldn't find her on it, and considering that the doujin area had a huge downsized compared to last year, maybe she couldn't get a booth... =( I was walking and OMG IT'S OASE.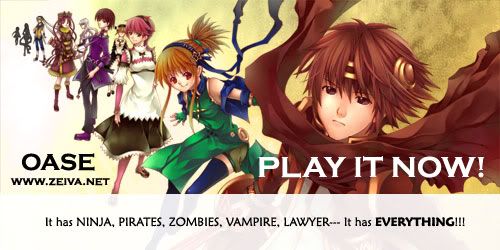 I only found out two months ago that OASE was completed in September. (the last Other Age was like, what, 2007? :X) And knowing my sad mistake from CF2009, I was absolutely sure that it was Mirage Maiden sitting behind the counter. SPAZZM. I took a peek at her stuff, and the OASE CD was on sale for RM25! What a bargain! ;w; I wandered away from the booth to count the money I had in my pouch. (having already spend RM20+ on other trinkets) Should I buy it? This would be the first time I'm buying something so expensive from the doujin booths! (I hardly spend a lot of money... other than on my cosplay) I met Michelle and her friend, and continued my spazzing.
Me: OMG I saw Zeivaaa! She's this super cool artist on deviantart and she's selling her game CD! OMG should I buy it.
Michelle: Aaaah! Go buy it! What are you waiting for!
The devil has arrived. :B I ran back to Zeiva's booth and bought the CD in a heartbeat. And I talked to Mirage Maiden! Ahhhh! AND I GOT HER SIGNATUREEEEE. And she said I could e-mail her if I need any help. OWHSMPOSSUM! C8
I spazzed so hard. xD Anyway, yeah, went back to my shopping. I finally ran out of money. (I carried RM50 with me) I still had a few more stuff to buy! But the rest of my money is in the storage. Hung out again with my friends, Hui Jun bought Aunty Anne's for me. :3 Didn't eat anything other than nuggets from Anthea's. And soon, I ran off to meet up with my Serge again, along with my Kid! Hurray!
Kid

,

Serge

,

Leena

;

Itomaki

,

Ikki

,

SugarGaL

:3
We ran around the hall RPG-style(follow the leader!), had some really great laughs, and took some pictures! I'll update once the photogs get those pictures, wheee! I'm so glad I made my Chrono Cross group!
I hung out with them till 6.30pm I believe. Then I joined Anthea, Hui Jun and Jasmine to wait for my dad. We finally managed to find a bus ticket for Hui Jun to go back to Kedah at 9.00pm. And so dad picked us up, and it was end of Comic Fiesta 2010 Day 1! And Hui Jun's going back home too. It has been awesome having her around, and truly a blessing. We had fun together through all the rush jobs. xD Hui Jun, if you ever want to come down to KL, my doors are opened. :D See you soon!
So, back home for the rest of us. Everyone else decided to dump me for Day 2, as Comic Fiesta 2010 is honestly, not as good as its predecessor. But I had an awesome Day 1, and no matter what, CF rocks for me. :P I guess I'm lucky I have cosplayers to hang out with, and I definitely don't want to disappoint some people on Day 2, I have lots of plans! Which I will reveal... on the next post! :3
Stuff from Day 1! (Chocobo and Space Invaders badge missing from picture)
Quote of the Day:

"In spite of the cost of living, it's still popular."

- Kathy Norris