Ladies and gentlemen, please put your hands together...
I made it! I'm the Student Council President! =) Thanks all of you who supported me through my short campaign. All of you are owhsm! I'm so surprised at the amount of people who actually cared to click "like", and gave me cheers of confidence in my abilities, and all the congratulatory messages... I'm so touched. ;w;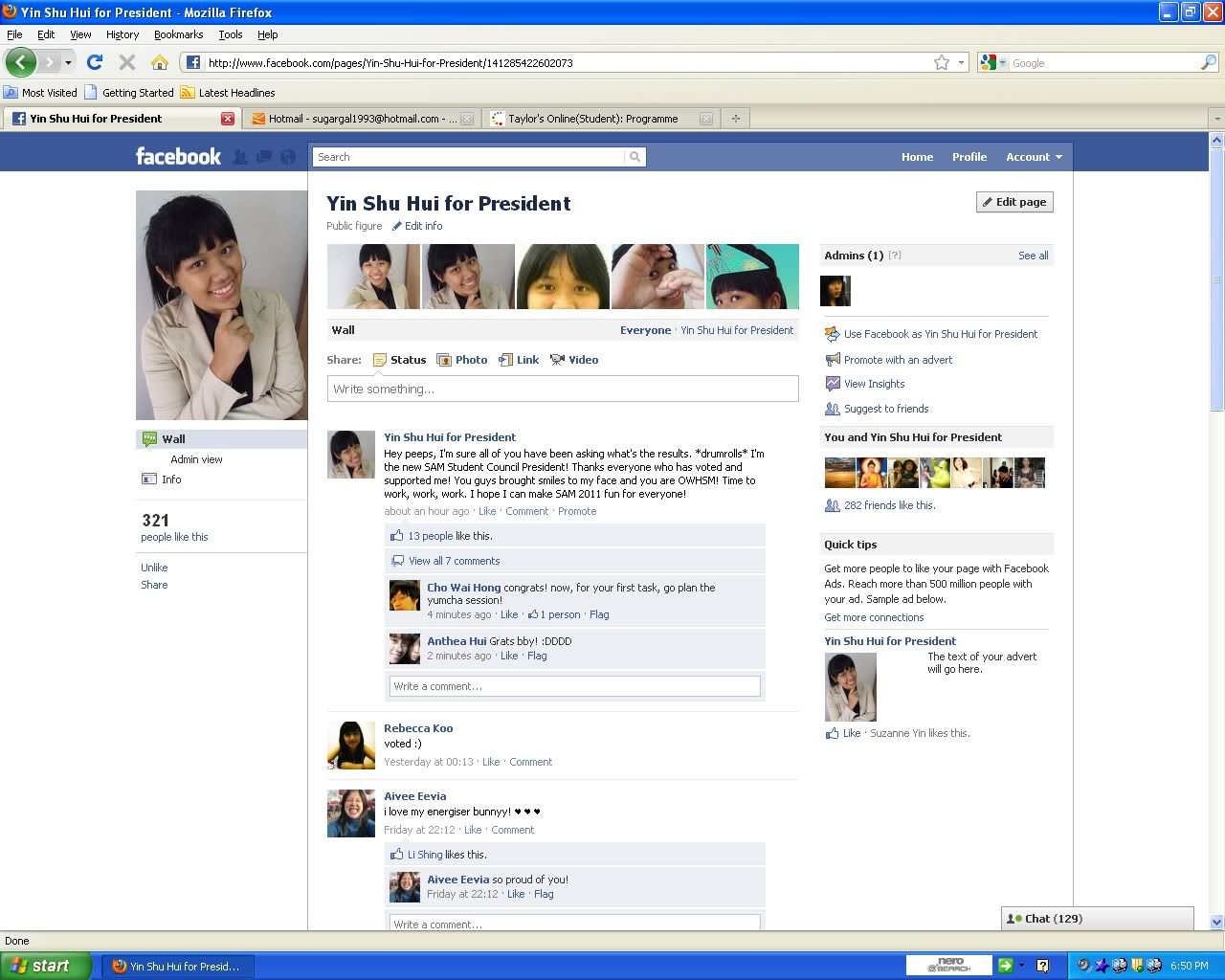 322+1 people liked my page ;) Thanks!
I was super nervous before they announced the results. After we heard it, immediately we had to fit in with our new council, and start working for SAM Fiesta 2011. Whoopieee!
Meanwhile, here are some more random pictures from the week for you. :3
Other pictars from the random camwhore session. Because we are girls and we can. lD
Because Facebook creates owhsm, spontaneous humour :P (ABUKEN HAH)
Remember this? I submitted it on
The Star
and it's on Tuesday's paper! :D I didn't win the RM50 though, ewww. My picture is so much more owhsm and it got more votes. (and they changed my caption too! D:)
I've been unleashing my hidden Photoshop skills this week, because it so happens that in my whole Student Council, my Photoshop skills are actually the pro-est, haha. I did the "Presenting your Student Council" poster above, which is going to be printed as a banner and hung in campus. :P
So far, I've been doing well with my Student Council! They are all pretty owhsm people, and we're getting along well. Since I'm Student Council President, I guess I'll not be taking up too many leadership positions in other clubs. Besides, I'll probably have to take up another big job once Jeffrey steps down this mid-year. =)
Of course, it's been busy this week. Maths and Bio test WTH. GG and GC plz. ;w; All week I've been staying back till 5pm, having extra Maths classes and student council meetings. Haven't had the opportunity to go for any other club meetings but the Anime Society.
It was Bing Xi's birthday on Friday (Happy birthday again! :D) and we wanted to go lunch with Jasmine, who ffk us without telling us until we called her one hour later. ;w; In the end, we didn't get lunch, but looked for her at the Taylor's Business Club "Just Win It" fair. We ended up sitting and watching the "Take it or Leave it" game, which is just like "Deal or No Deal". It was pretty awesome! Jasmine and JC were the models with the boxes. :P
At the Anime Society meeting, it was a quiz kind of thing. My team didn't win the crossword puzzle, but we totally pwned Jeopardy. Had some laughs, and sold my pretty Japanese school shoe. ;w;
And the weekend is here! Woohoo! Got quite a few events on my schedule this weekend. Meanwhile...
This is the SAM Fiesta I've been working on! I made the whole poster from scratch (except for the background). I'm so proud! ;w; It's going to be the orientation party for the SAM students only. It'll be like a club, minus the liquor! I hope there will be a large turn out and that it be a success, considering that it's so rush now, and that the event is on a Thursday.
GO LIKE THE
SAM FIESTA PAGE
.
I did my best to do a "frequent" update, hopefully having enough content with less walls of texts and being as entertaining as possible. :P Another update to come after my big weekend then!
Quote of the Day:

"If you take responsibility for yourself you will develop a hunger to accomplish your dreams."

- Les Brown